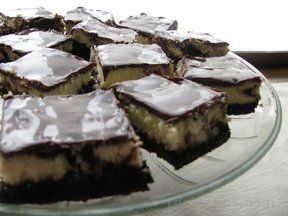 Directions
Preheat oven to 350 degrees F. Grease a 13x9 inch pan.
Prepare brownie mix batter according to package directions. Spread 2 cups into prepared pan; set aside.
In a small bowl, beat the cream cheese, butter, sugar, flour and vanilla until smooth. Add eggs; beat on low speed until combined.
Spread evenly over brownie batter. Top with remaining brownie batter. Cut through batter with a knife to swirl.
Bake for 28-32 minutes or until a toothpick inserted near the center comes out with moist crumbs.
Cool completely on a wire rack. Spread frosting over brownies.
Prep Time: 15 minutes
Cook Time: 30 minutes


Ingredients
-
1 package fudge brownie mix (13-inch x 9-inch pan size)
-
8 ounces cream cheese , softened
-
6 tablespoons butter , softened
-
1/2 cup sugar
-
2 tablespoons all-purpose flour
-
1 teaspoon vanilla extract
-
2 eggs , lightly beaten
-
1 can chocolate frosting