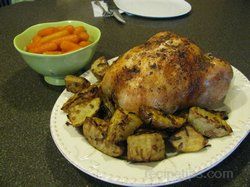 Directions
Preheat oven to 350 degrees F.
Place chicken in a roasting pan. Season, inside and out, with salt, pepper and onion powder.
Place 3 tablespoons butter in the chicken cavity. Stuff remaining butter under the skin of the chicken. Place celery pieces in the chicken cavity.
Bake uncovered 1 hour and 15 minutes in the preheated oven, basting every 20 minutes with melted butter drippings. Remove from heat. Tent with aluminum foil and allow to rest for 10 minutes before serving.
Prep Time: 10 minutes
Cook Time: 1.5 hours
Servings: 6


Ingredients
-
1 whole chicken
-
2 teaspoons salt
-
1 teaspoon black pepper
-
1 tablespoon onion powder
-
1/2 cup butter
-
2 stalks celery , cut into 6 pieces