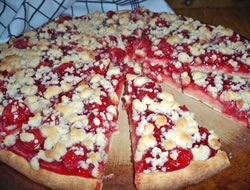 Directions
Prepare pizza dough as directed. Spread pizza dough on greased pizza pan and prick with a fork 8-10 times.
Place in preheated oven at 450 degrees for 5 minutes.
Remove pizza dough from oven and spread with pie filling. Sprinkle with crumb topping and place back into oven and bake for 20-25 minutes.
Remove pizza when dough is golden brown.
Prep Time: 20
Cook Time: 25
Container: Pizza pan
Servings: 12


Ingredients
-
1 package pizza mix (prepared as directed)
-
1 can cherry pie filling (20 ounce)
-
CRUMB TOPPING:
-
1/2 cup flour
-
3 tablespoons sugar
-
1 tablespoon brown sugar
-
1/4 cup softened butter
-
1/8 teaspoon salt