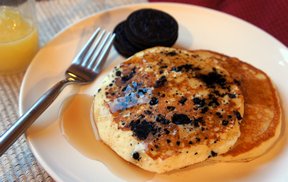 Directions
In a medium bowl, sift together the flour, baking powder, salt and sugar.
In a large bowl, lighly beat the milk, egg, melted butter and vanilla. Be careful not to overbeat as this will toughen your pancakes.
Add flour mix into the egg mixture; stir until combined.
Preheat a griddle to medium-high heat. Spray your griddle with non-stick cooking spray. Pour or scoop the batter onto the griddle, using approximately 1/4 cup for each pancake. Sprinkle top of each pancake with oreos. Brown on both sides. Serve hot and with maple syrup, if desired.
Prep Time: 10 minutes
Cook Time: 10 minutes
Servings: 6


Ingredients
-
1 1/2 cups all-purpose flour
-
3 1/2 teaspoons baking powder
-
1 teaspoon salt
-
1 tablespoon white sugar
-
1 1/4 cups milk
-
1 egg
-
3 tablespoons butter , melted
-
1/2 teaspoon vanilla
-
1/2 cup Oreo cookies - crushed