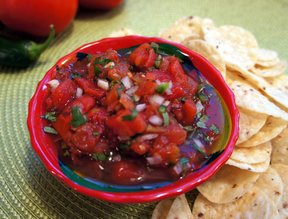 Directions
Dice the onion. Finely chop the cilantro.
Finely dice the jalapeno. Remove the seeds and veins for a milder flavor. Leave them in if you like it spicy.
Combine all ingredients and chill overnight.
If you want a finer consistency that is less chunky, run it through the food processor.
Prep Time: 20 minutes
Servings: 8


Ingredients
-
6 cans Rotel
-
1 white onion, diced
-
1 jalapeno, finely chopped
-
1 bunch cilantro, chopped
-
1 can tomato sauce (8 oz can)
-
1 teaspoon garlic, minced
-
1 teaspoon black pepper