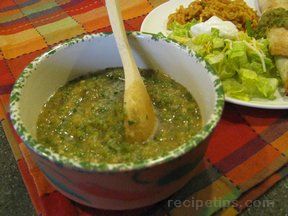 Directions
Boil tomatoes until soft and tender.
Drain in colander and allow to cool.
Remove skin.
Rinse and pat dry cilantro & Serrano peppers; place in blender.
Add cleaned garlic clove, onion, and salt.
Place tomatoes last into a blender.
Blend just until all ingredients incorporated.
Better if chilled before serving.
Servings: 12


Ingredients
-
12 roma tomatoes
-
2 cups fresh cilantro
-
3 Serrano peppers
-
2 tablespoons chopped onion
-
1 clove garlic
-
2 teaspoons salt