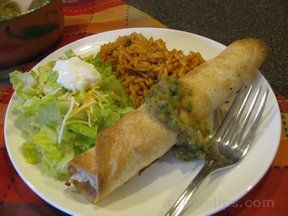 Directions
Mix chicken bouillon with chicken.
Place approximately 1/4 cup of chicken towards 1 end of a tortilla.
Role the tortilla from the meat side as tightly as possible and use a toothpick to "stitch" the tortilla to itself and hold it together.
Repeat until all chicken is gone.
In a large skillet, place enough oil in pan to cover 1/2 of taquito laying horizontally.
Heat oil over medium-high heat.
Place taquitos in hot oil and fry until medium brown and tortilla is crispy.
Flip them over to brown other side.
Have a platter ready with paper towel for oil absorption.
Remove taquitos from oil and hold over pan to drain oil.
Place taquitos on platter and remove toothpicks before serving.
Serve hot with salsa.
Servings: 12


Ingredients
-
24 corn tortillas (6 inch diameter)
-
6 cups shredded cooked chicken
-
1 1/2 tablespoons chicken bouillon
-
24 toothpicks
-
6 cups oil (approximately)