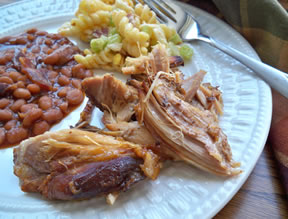 Directions
Place stick of butter in crock pot.
Place pork roast on top of butter.
Sprinkle onions over entire roast.
Pour honey over onions.
Set crock pot on low and allow to cook for approx. 6-8 hours, until pork is cooked through and the roast falls apart when you stick a fork in it.
Prep Time: 10 minutes
Cook Time: 6 or more hours


Ingredients
-
Pork roast
-
1 stick butter
-
1 medium onion, chopped
-
6 ounces honey