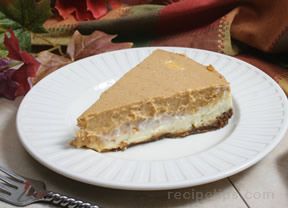 Directions
FOR CRUST:
Preheat oven to 300 degrees F.
Generously butter inside of springform pan.
In a small bowl, combine crushed ginger snaps and melted butter. Press into the bottom and up 1-inch on the sides of the springform pan.
Bake for 8 minutes. Remove from oven and cool on a wire rack for at least 5 minutes.
FOR FILLING:
Beat softened cream cheese in a large bowl on medium speed until smooth. Add sugar to cream cheese and beat an additional 1 minute on medium speed. Add vanilla extract. Beat in eggs, one at a time, on low speed. Beat just enough to blend each egg.
Pour 3 cups of this mixture on top of the crust.
Add pumpkin and spices to the remaining cream cheese mixture. Whisking to combine throughly.
Pour pumpkin mixture on top of cream cheese layer.
Fill a shallow pan with hot water and place on oven rack just below the rack that cake will be placed on.
Bake for 1 hour and 25 minutes or until edges are firm and cake jiggles slightly in the middle.
Turn the oven off, open the door at least 4 inches, and leave cheese cake in oven for an additional 30 minutes. Remove from oven and place on wire rack for an additional 30 minutes.
Once cooled, loosen edges from the sides of the pan by running a knife around the edge of the cheesecake. Allow to cool completely. Cover and chill a minimum of 4 hours or overnight. Remove the sides of the springform pan and transfer cheesecake to a serving plate. Garnish as desired.
Prep Time: 20 minutes
Cook Time: 1.5 hours
Servings: 10


Ingredients
-
CRUST:
-
2 cups crushed ginger snaps
-
4 tablespoons butter - melted
-
FILLING:
-
4 packages cream cheese - softened
-
1 1/2 cups sugar
-
2 teaspoons vanilla extract
-
4 eggs
-
15 ounces pumpkin , packed solid
-
1 1/2 teaspoons ground ginger
-
1 teaspoon ground cinnamon
-
1/4 teaspoon freshly grated nutmeg
-
whipped topping for garnish