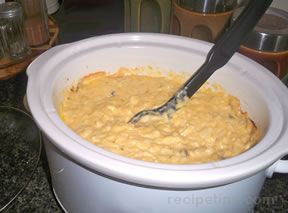 Directions
Combine all the ingredients in a large bowl; stir until evenly mixed.
Pour mixture into the slow cooker and cover.
Turn on low and cook for 4 hours. If mixture is made ahead of time and refrigerated, cook on high for the first hour and then turn down to low for the remaining time.
Prep Time: 15 minutes
Cook Time: 4 hours
Servings: 12


Ingredients
-
1 package shredded hash browns - 30 oz.
-
1 can cream of mushroom soup
-
1 can cream of chicken soup
-
16 ounces sour cream
-
1/2 cup butter , melted
-
2 cups shredded cheddar cheese