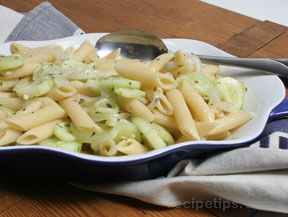 Directions
Cook pasta according to the package directions. Drain, rinse with cold water and allow to completely drain again.
Place in a large bowl. Stir in the oil, cucumbers and onion.
Mix together the remaining ingredients and then pour them over the pasta. Toss to combine.
Cover and place in the refrigerator at least 4 hours for the flavors to combine.
Container: large bowl with lid
Servings: 12


Ingredients
-
8 ounces penne pasta
-
1 tablespoon vegetable oil
-
3 cucumbers - medium in size, peeled and sliced semi-thin
-
1 onion - medium in size and sliced thin
-
1 1/2 cups sugar
-
1 cup water
-
3/4 cup vinegar
-
1 tablespoon prepared mustard
-
1 tablespoon parsley - dried or fresh
-
1 teaspoon salt
-
1 teaspoon pepper
-
1/2 teaspoon garlic salt