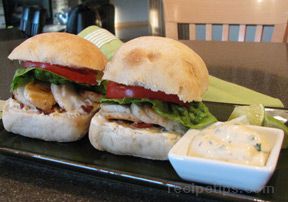 Directions
For the Cilantro-Lime Mayonnaise:
Blend all ingredients in food processor except mayonnaise and salt and pepper. Process until cilantro is chopped up finely.
Add mayonnaise and process just until blended. Season with salt and pepper.
Refrigerate until ready to serve. This can be made a few days in advance.
Scallop Sliders:
In a large skillet, brown bacon pieces until crisp over medium-high heat. Remove from pan and drain on a paper towel.
Leaving 1 tablespoon of the bacon drippings in the skillet, reduce heat to medium.
Season both sides of scallops with salt and pepper. Cook in skillet with bacon drippings, 2 minutes on each side or until seared and opaque. Remove from pan.
Slice each scallop into 3-4 layers.
Spread rolls with Cilantro-Lime Mayonnaise.
Layer with bacon pieces, scallops, lettuce and tomato.
Prep Time: 20 minutes
Cook Time: 10 minutes
Servings: 4


Ingredients
-
Cilantro-Lime Mayonnaise:
-
3 tablespoons lime juice
-
1 clove garlic
-
5 dashes hot sauce
-
1 tablespoon Dijon mustard
-
1/2 cup cilantro
-
1 cup mayonnaise
-
salt and pepper - to taste
-
Scallop Sliders:
-
4 pieces bacon - diced
-
2 pounds scallops
-
salt and pepper - to taste
-
8 ciabatta rolls - sliced
-
8 pieces lettuce
-
1 tomato - sliced