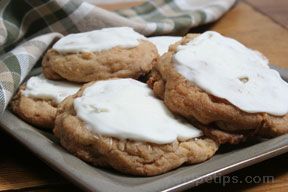 Directions
Preheat oven to 350 degrees F.
In a large bowl, cream shortening and brown sugar. Beat in eggs.
In a separate bowl, conbine flour, soda and salt. Add to creamed mixture; mix well.
Fold in rhubarb, coconut and nuts (if desired).
On a prepared cookie sheet, drop about 1 tablespoon of batter per cookie. Bake 10-12 minutes or until light golden brown.
Remove pan from oven, let cookies sit on the baking sheet 1-2 minutes before removing them to a cooling rack.
For Frosting:
Cream together cream cheese and butter.
Add powdered sugar and vanilla. Cream until smooth.
Frost onto cooled cookies.
Note: If using frozen rhubarb, measure before thawing. Then thaw and drain but do not press liquid out.
Prep Time: 10 minutes
Cook Time: 15 minutes
Servings: 48


Ingredients
-
1 cup shortening
-
1 1/2 cups brown sugar - packed
-
2 eggs
-
3 cups flour
-
1 teaspoon baking soda
-
1 1/2 cups rhubarb
-
1/2 teaspoon salt
-
3/4 cup coconut
-
3/4 cup pecans - chopped (optional)
-
FOR FROSTING:
-
3 ounces cream cheese - softened
-
1 tablespoon butter - softened
-
1 1/2 cups powdered sugar
-
3 teaspoons vanilla