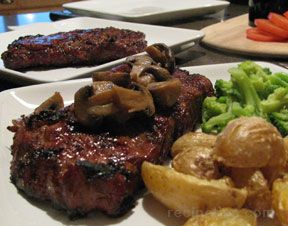 Directions
In a small bowl, combine first seven ingredients; mix well to blend.
Poke steaks with a fork to allow marinade to soak into steaks. Place steaks in a reseable bag. Pour marinade into bag.
Seal and place in the refrigerator for at least 1 hour.
Preheat grill to medium-high heat.
Place steaks directly on grill. Cook for approximately 6 minutes; flip steaks and cook for another 5-6 minutes or until the steaks reach your desired doneness.
Prep Time: 5 minutes
Cook Time: 15 minutes
Servings: 4


Ingredients
-
1/2 cup soy sauce
-
1/4 cup maple syrup
-
1 teaspoon sesame oil
-
6 cloves garlic - minced
-
1 teaspoon ginger
-
1 teaspoon ground mustard
-
1/4 teaspoon hot sauce
-
4 rib eye steaks