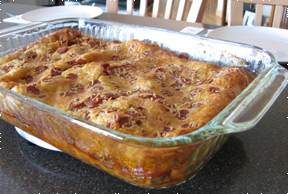 Directions
Preheat oven to 400 degrees.
In a large skillet, brown sausage over medium heat. Cook until browned and cooked through, breaking up the meat as it cooks..
Add onion and mushrooms and cook until soft and translucent, about 5 minutes..
Add pasta sauce and bring to a simmer, about 2 minutes.
Remove from heat and transfer sauce to the bottom of a 9x13 baking dish. Top with mozzarella cheese.
In a medium bowl, whisk together eggs, milk and oil until blended. Add in flour and salt and whisk until well blended.
Pour mixture over cheese in baking dish. Sprinkle with pepperoni and parmesan. Bake 25 minutes, or until golden brown.
Let stand for 5 minutes before slicing and serving.
Prep Time: 10 minutes
Cook Time: 25 minutes
Container: 9x13 baking dish
Servings: 8


Ingredients
-
1 pound pork sausage
-
1 onion - diced
-
1 can mushrooms
-
2 cups pasta sauce
-
2 cups mozzarella cheese
-
2 eggs
-
1 cup milk
-
1 tablespoon canola oil
-
1 cup flour
-
1/2 teaspoon salt
-
1/2 cup pepperoni
-
1/4 cup parmesan cheese