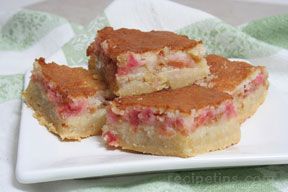 Directions
Preheat the oven to 350° F.
Combine the flour, powdered sugar, and butter for the crust. Cream together with an electric mixer.
Press into the bottom of a 9 x 14 glass baking dish.
Place in the preheated oven and bake for 17 minutes.
Prepare the filling while the crust is baking.
First beat the eggs and then add the sugar, flour, and salt.
Fold the rhubarb into this mixture.
Pour the filling over the hot crust when it comes out of the oven.
Spread evenly and then place back in the oven; bake for an additional 35 minutes.
Allow to cool completely before cutting them into squares.
Prep Time: 45 minutes
Cook Time: 1 hour
Container: 9 x 14 glass baking dish
Servings: 24


Ingredients
-
CRUST:
-
2 cups flour
-
1/2 cup powdered sugar
-
1 cup butter, softened
-
FILLING:
-
4 eggs
-
3 cups sugar
-
1/2 cup flour
-
1 teaspoon salt
-
4 cups finely chopped rhubarb