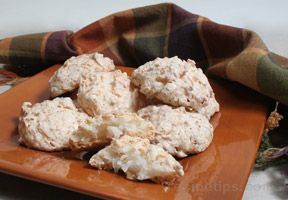 Directions
Preheat oven to 325° F.
Cover baking sheets with parchment paper to prevent cookies from sticking. Use two large baking sheets to try to get all the coconut bites on two sheets so they can all be baked together. They do not spread much when baking so they can be fairly close together.
I a large mixing bowl combine the egg whites, vanilla, cream of tartar, and salt; beat until a soft peak forms.
Begin adding the sugar 1 tablespoon at a time while beating until it has all been added.
Beat the mixture until it forms stiff peaks.
Fold the coconut into the egg white mixture. Fold in until evenly distributed.
Using a small scoop, place a heaping scoopful onto the baking sheet into a mound.
Repeat this process until all the batter is gone. Remember you will have to place the mounds close together. Try to leave at least 1/4 inch between.
Place the full baking sheets on separate racks in a preheated oven. Bake for 20 to 25 minutes or until lightly browned.
Once they are done, leave them in the oven and turn it off. Leave cookies in the oven for 30 minutes after turning the oven off.
Remove from the oven and transfer the cookies to a wire rack to cool.
Prep Time: 30 minutes
Cook Time: 25 minutes
Container: Large baking sheets
Servings: 24


Ingredients
-
4 egg whites
-
1/4 teaspoon cream of tartar
-
1/8 teaspoon salt
-
1 teaspoon vanilla
-
1 1/3 cups sugar
-
1 package shredded coconut - 14 oz. package