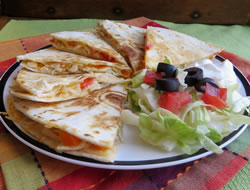 Directions
In a medium non-stick skillet, melt 1 tablespoon of butter over medium heat.
Add onions and cook until translucent, 8-10 minutes. Add garlic and cook 1 minute. Pour into a bowl and set aside.
Add 1 tablespoon of butter in the same skillet and melt over medium heat. Add the bell peppers and cook just until slightly softened. Remove from heat.
Using a large grill pan, heat oil over medium heat.
Assemble quesadillas by placing desired fillings (chicken, onion/pepper mixture, cilantro, spinach and cheese) to cover the tortilla. Place a second tortilla over the top.
Using a wide spatula, carefully place in the prepared skillet. Cook 3-5 minutes or until slightly browned. Carefully turn over and cook on second side until slightly browned.
Remove from skillet and place on a plate. Cut in half and then cut each half into 3 triangles. Serve with Pico de Gallo, sour cream and any other desired Mexican fixings.
Prep Time: 15 minutes
Cook Time: 15 minutes


Ingredients
-
2 tablespoons butter - divided
-
1/2 onion - finely diced
-
2 cloves garlic - minced
-
1 bell pepper - red or orange (or 1/2 of each)
-
1 tablespoon olive oil
-
8 tortillas
-
2 cups chicken - cooked, cubed
-
1 cup spinach
-
1/4 cup cilantro - chopped
-
2 cups cheese - quesadilla works best
-
1/2 cup sour cream (optional)