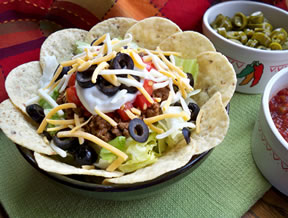 Directions
Prepare taco meat according to packet seasoning directions, cool.
In a tortilla taco salad bowl or a regular salad bowl, add the lettuce. Add a serving of taco meat on top of the lettuce.
Then top the meat with the other ingredients you wish to include with your salad. Choose from tomatoes, onion, sour cream, black olives, cheese, and beans (optional).
If serving in a regular salad bowl, line the outside of the bowl with tortilla chips to eat with your salad.
Serve with Thousand Island or French dressing.
Serve salsa, taco sauce, and jalapenos, on the side for those who like to add them to their salad.
Prep Time: 45 minutes
Cook Time: 20 minutes
Servings: 4


Ingredients
-
1 pound ground beef browned and drained
-
1 packet taco seasoning mix
-
Tortilla taco salad bowl or tortilla chips
-
1 head lettuce torn into bite size pieces
-
1 small onion diced
-
1 tomato diced or cherry tomatoes, halved
-
Sour cream
-
1 can slices black olives
-
1 cup shredded cheese
-
1 can pinto beans , drained (optional)
-
Thousand Island or French dressing
-
Salsa, taco sauce, jalapenos (optional)