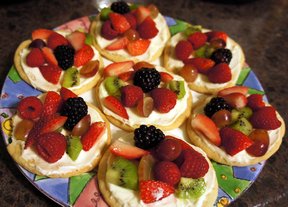 Directions
Bake cookies as directed on package; cool completely on a wire rack.

In a medium bowl, combine cream cheese, limeade concentrate and powdered sugar; beat until smooth.

Spread 1 tablespoon of cream cheese mixture onto each cooled cookie. Arrange fruit on top of each. Serve immediately, or cover and refrigerate up to 2 hours.
Prep Time: 20 minutes
Cook Time: 10 minutes
Servings: 24


Ingredients
-
1 package refrigerated sugar cookie dough (18 ounce pkg)
-
1 package cream cheese, softened (8 ounce pkg)
-
2 tablespoons frozen limeade concentrate, thawed
-
1/2 cup powdered sugar
-
10 strawberries, quartered
-
1 kiwi fruit, peeled, diced
-
1/2 cup blueberries
-
1/2 cup raspberries