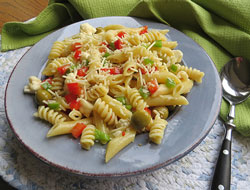 Directions
Cook noodles until they are al-dente.
Place pasta in a large bowl; add the peppers, drained olives, other vegetables of choice, and the cheese.
Pour in half of the dressing and stir into the other ingredients. Determine if you want to add more dressing. The ingredients should be well coated but there should not be dressing setting in the bottom of the bowl. The salad will soak up some of the dressing as it sets but you do not want to over dress it. If necessary, you can always add a little more dressing just before serving.
Mix and let sit overnight in the refrigerator or until thoroughly chilled.
Prep Time: 30 minutes
Cook Time: 15 minutes
Container: Large bowl


Ingredients
-
16 ounces regular rotini noodles or multi-colored (or any similar pasts will work)
-
1/2 green pepper - diced
-
1/2 red pepper - diced
-
2 cups fresh vegetables, such as cucumbers, cauliflower, broccoli, or tomatoes - cut to bite size pieces
-
1 small can of sliced black olives or 3/4 cup whole green olives (or both, if desired)
-
1/2 cup grated Parmesan cheese
-
1 jar Wishbone Italian dressing