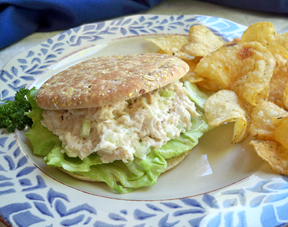 Directions
Put chicken in a bowl and use a fork to shred it up.
Add the rest of the ingredients. Add additional mayo or seasoning to taste.
Put on bread and enjoy. This recipe is good as a dip with crackers also.
Note: This chicken salad can be made up a day ahead of time. It keeps in the refrigerator for a couple of days.
Prep Time: 20 minutes


Ingredients
-
1 large can chicken or 2 cups of cut up chicken
-
1/2 cup chopped onion
-
1 - 2 stalks celery chopped
-
1/2 cup mayo or salad dressing (Miracle Whip)
-
1/8 teaspoon Accent seasoning
-
dash salt
-
dash pepper
-
dash garlic powder