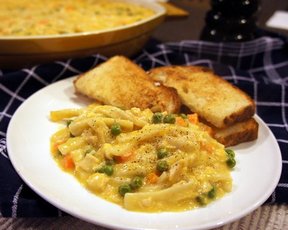 Directions
Cook noodles in boiling water 20 minutes; drain.
Combine soup, milk, water and cheddar cheese in saucepan. Heat to boiling, stirring frequently.
Combine the noodles, turkey, peas and carrots in a casserole dish.
Pour cheese sauce over and mix. Sprinkle with Parmesan cheese.
Bake uncovered at 375 degrees F for 30-45 minutes.
Prep Time: 25 minutes
Cook Time: 45 minutes
Container: 9x13 casserole dish
Servings: 8


Ingredients
-
1 package frozen egg noodles (12 oz pkg)
-
1 can cream of mushroom soup
-
1/2 cup milk
-
1 cup water
-
3 cups shredded cheddar cheese
-
2 cups turkey, cooked, diced
-
10 ounces frozen peas and carrots
-
2 tablespoons Parmesan cheese