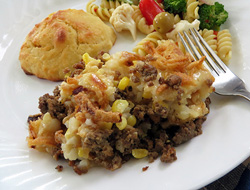 Directions
Brown meat, drain and put in the bottom of a 9 x 13 inch baking dish.
Drain green beans and spoon on top of ground meat.
Cover with tater tots.
Mix soups and milk and pour over tater tots.
Bake covered at 350 degrees F. for 1 hour. If the casserole has been refrigerated, add 15 more minutes to cooking time.
Uncover and sprinkle fried onions over the top.
Bake for 5 to 10 more minutes, or until fried onions have browned.
Prep Time: 30 minutes
Cook Time: 1.25 hour
Container: 9 x 13 inch baking dish


Ingredients
-
2 pounds ground beef or turkey
-
1 1/2 cups frozen or canned corn
-
1 package tater tots (2 lb. package)
-
1 can (10 1/2 oz) cream of chicken soup
-
1 can (10 1/2 oz) cream of celery soup
-
1/2 cup milk
-
1 can onion rings (3 oz.)