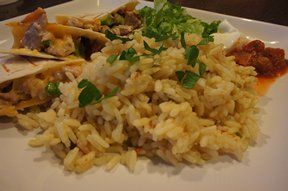 Directions
Preheat oven to 425 degrees F.
In a Dutch oven, add the water, rice, chicken base, vegetables, seasonings and butter, except the salt and lime juice. Bring the water to a boil stirring very little.
Cover the pan and place it in the preheated oven for 15-20 minutes, or until almost all of the water is absorbed.
Remove the pan from the oven but leave it covered and sitting for 5 minutes.
In a small bowl, combine the salt and lime juice.
Remove the lid long enough to stir in the salt and lime juice; recover the pan and let sit another 5 minutes.
Serve and enjoy.
Cook Time: 30 minutes


Ingredients
-
3 cups water
-
2 cups (uncooked) long grain white rice
-
1 tablespoon chicken base (or 3 chicken bullion cubes)
-
1 cup bell pepper, diced (red, yellow, green, or any combo you like)
-
1/2 onion, diced small
-
1 medium tomato, diced small
-
1/4 cup fresh cilantro, finely diced
-
1 teaspoon ground black pepper
-
1/2 teaspoon garlic powder
-
1/2 teaspoon onion powder
-
2 tablespoons butter
-
1 teaspoon kosher salt (to taste)
-
2 tablespoons lime juice (to taste)