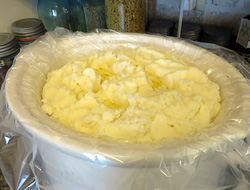 Directions
Boil potatoes until done. Drain and mash.
Whip in cream cheese and sour cream until fluffy. Add milk if necessary (not even 1/4 of a cup).
Salt to taste.
Cover and refrigerate.
Before baking, preheat oven to 350 degrees F., drizzle melted margarine over the top.
Bake 1 hour (40 minutes covered and 20 minutes uncovered). Or, place in a slow cooker on low and heat for 4 hours before serving. You could also bake them in the crock in the oven before hand and keep them warm in the slow cooker until ready to serve.
Prep Time: 1 hour
Cook Time: 1.5 hours


Ingredients
-
12 large potatoes (peeled and cut)
-
8 ounces cream cheese
-
8 ounces sour cream
-
Milk (if needed)
-
Salt to taste
-
1/4 cup margarine