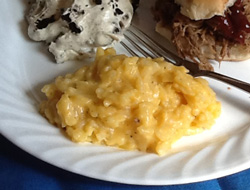 Directions
Mix thawed hash browns, 1/2 cup melted butter, salt, pepper, dried onion, sour cream, soup, and cheese.
OVEN BAKED WITH TOPPING:
Put into buttered 9 X 13 pan.
Mix crushed corn flakes with 1/4 cup melted butter and spread over top of the potato mixture.
Bake at 350 degrees for 1 hr.
SLOW COOKER:
When these potatoes can cooked in a slow cooker the corn flake topping is eliminated but they are still great even without the topping.
Place in a slow cooker and cook for an hour on high; then turn down to low and cook another 2 hours; or cook on low for 4 hours. Stir 2 or 3 times through cooking time.
Prep Time: 20 minutes
Cook Time: 1 hour
Container: 9 x 13 baking pan


Ingredients
-
2 pounds southern style hash browns, thawed
-
1/2 cup butter, melted
-
1 teaspoon salt
-
1/2 teaspoon pepper
-
2 tablespoons dried minced onion
-
12 ounces sour cream
-
1 can cream of chicken soup
-
2 cups shredded Cheddar cheese
-
OVEN BAKED WITH TOPPING:
-
2 cups crushed corn flakes
-
1/4 cup butter melted