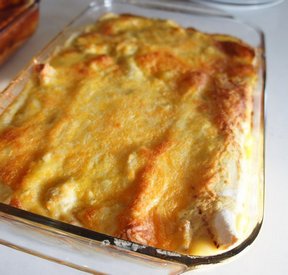 Directions
Preheat oven to 350 degrees. Spray 9x13 inch pan with coking spray.
Boil the chicken with chicken bouillon cubes; use 1 bouillon cube per cup of water used.
Shred the chicken. Mix chicken with sour cream, mozzarella cheese, and onions until the chicken is covered. More sour cream and cheese can be added if desired.
Add a couple scoops of the chicken mix onto each tortilla. Roll up and place in pan. Continue until chicken mix is all used.
Top with enchilada sauce and sprinkle with cheddar cheese.
Cover with foil. Bake at 350 degrees for about 25-30 minutes.
Remove foil and bake another 5 minutes, so the cheese will brown.
Prep Time: 30 minutes
Cook Time: 45 minutes
Container: 9x13 baking pan


Ingredients
-
6 chicken breast halves
-
chicken bouillon cubes
-
8 ounces sour cream
-
8 ounces shredded mozzarella cheese
-
green onions, chopped (optional)
-
8 tortillas
-
1 can green enchilada sauce
-
1 cup shredded cheddar cheese