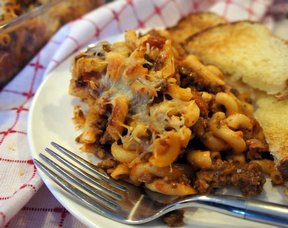 Directions
Preheat oven to 350 degrees.
Cook ground beef until no longer pink; drain.
Cook macaroni according to package directions; drain.
Place pepperoni in a bowl and cover with water; microwave 1-2 minutes to get rid of the grease. Drain.
Mix all ingredients together, reserving half of the cheese. Put all into a 9x13 pan.
Sprinkle rest of cheese on top and bake for 30 minutes. Serve hot.
Prep Time: 15 minutes
Cook Time: 30 minutes
Container: 9x13 pan
Servings: 12


Ingredients
-
2 pounds ground beef, browned and drained
-
12 ounces macaroni, cooked and drained
-
1 package pepperoni
-
1 package canadian bacon
-
1 jar spaghetti sauce
-
1 can mushrooms - optional (small can)
-
2 cups shredded mozzarella cheese, divided