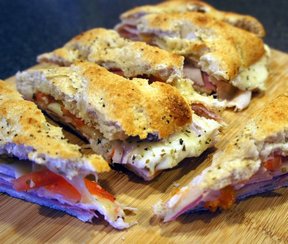 Directions
Cut focaccia horizontally in half; spread pesto over cut sides.
On bread bottom, layer the ham, turkey, pastrami, cheese, onion, and tomato. Sprinkle with Italian seasoning.
Replace bread top; wrap in foil.
Place on baking sheet. Bake at 350 degrees for 15-20 minutes or until heated through. Let stand for 10 minutes.
Cut into wedges.
Prep Time: 15 minutes
Cook Time: 20 minutes
Container: Baking sheet
Servings: 8


Ingredients
-
1 loaf focaccia bread
-
1/4 cup pesto
-
1/4 pound deli ham, sliced
-
1/4 pound deli smoked turkey, sliced
-
1/4 pound deli pastrami, sliced
-
5 slices Provolone or American cheese
-
1/3 cup red onion, thinly sliced
-
1 small tomato, sliced
-
1/4 teaspoon Italian seasoning