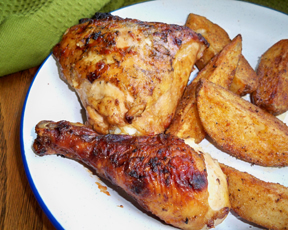 Directions
In a large resealable bag, combine everything except chicken. Close bag and shake well to mix.
Add chicken to bag and shake to coat chicken. Marinate overnight.
Remove from refrigerator and place on grill that has been preheated to medium heat. Grill each side for about 8-10 minutes or until chicken is done or no longer pink in the center.
Prep Time: 5 minutes
Cook Time: 20 minutes


Ingredients
-
1 chicken - cut into pieces
-
1/2 cup mayo
-
3 tablespoons Worcestershire Sauce
-
1/2 small onion, cut into rings
-
2 teaspoons yellow mustard