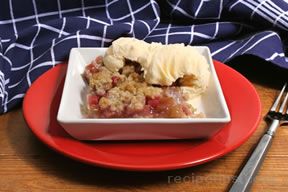 Directions
Mix the oatmeal, flour, brown sugar, and butter together like pie crust - reserve 1/3 for the top.
Press the other 2/3 in the bottom of a 9 X 13 pan.
Combine sugar, cornstarch, water, and vanilla in a saucepan; cook this until clear.
Arrange 6 to 8 cups cut up rhubarb over the crust.
Pour cooked mixture over rhubarb and sprinkle reserved crust over the top.
Bake for 45 minutes at 350 degrees F. Then turn oven off and leave in the oven for an additional 15 min.
Cook Time: 45 minutes
Container: 9 x 13 pan
Servings: 15


Ingredients
-
1 1/4 cups oatmeal
-
1 1/4 cups flour
-
1 cup brown sugar
-
2/3 cup butter
-
1 1/2 cups sugar
-
3 tablespoons cornstarch
-
1 1/2 cups water
-
1 teaspoon vanilla
-
6 cups - 8 cups of diced rhubarb