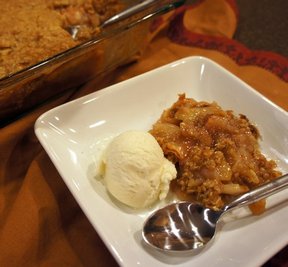 Directions
Peel and slice the apples, and place them in a large bowl.
Add the sugar, flour, salt and cinnamon to the apples and mix thoroughly; then place the apple mixture into a 9x13 inch baking pan.
For the topping, combine the melted butter, brown sugar, flour, oatmeal and salt. Mix well and spread over the top of the apples.
Bake at 350ºF for about 1 hour.
Prep Time: 20 minutes
Cook Time: 1 hour
Container: 9x13 inch baking pan
Servings: 12


Ingredients
-
8 apples
-
1 cup sugar
-
2/3 cup flour
-
1/4 teaspoon salt
-
1 1/2 teaspoons cinnamon
-
TOPPING:
-
1 cup butter, melted
-
1 1/2 cups brown sugar
-
1 cup flour
-
1 1/2 quick oatmeal
-
1/4 teaspoon salt