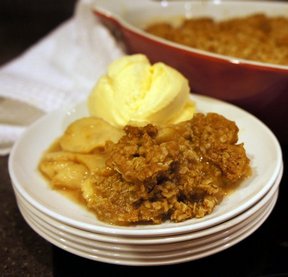 Directions
Preheat oven to 350ºF.
Peel and slice the apples. Spread the apple slices over the bottom of a 9x13-inch baking pan.
Mix together the sugar, flour and cinnamon; sprinkle it over the apples.
Mix the butter, flour, brown sugar, oatmeal, salt and baking powder. Sprinkle the mixture over the top of the apples.
Bake for 1 hour.
Prep Time: 15 minutes
Cook Time: 1 hour
Container: 9x13-inch baking pan
Servings: 12


Ingredients
-
10 apples, peeled, sliced
-
3/4 cup sugar
-
2 tablespoons flour
-
1 teaspoon cinnamon
-
TOPPING:
-
1 cup butter, melted
-
1/2 cup flour
-
1 cup brown sugar
-
1 cup oatmeal
-
1/4 teaspoon salt
-
1/2 teaspoon baking powder