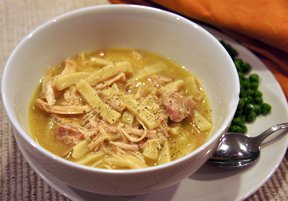 Directions
Place the chicken breasts in the slow cooker; then add the soups and stock.
Cover the crock pot and turn the heat setting to low. Cook 8 hours.
Boil 1 bag of egg noodles according to the package directions.
While the noodles are boiling, shred the chicken with a fork. It often works best to use two forks to shred the chicken directly in the crock pot.
Drain the cooked noodles, add to the slow cooker, and gently stir. Cover the crock pot and continue to heat on low for another 15 minutes before serving.
Prep Time: 10 minutes
Cook Time: 6 or more hours
Container: 6-quart slow cooker
Servings: 8


Ingredients
-
2 pounds boneless, skinless chicken breasts
-
1 can cream of chicken soup
-
1 can cream of celery soup
-
1 cup chicken stock
-
1 package egg noodles (16 oz. bag)
-
salt and pepper, to taste