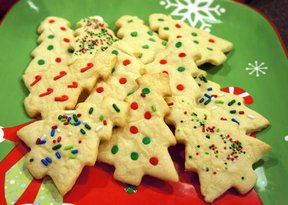 Directions
Cream together the butter and sugar; then add all of the other ingredients.
Roll out the dough into a thin sheet, and cut with a floured cookie cutter.
Place on a parchment paper lined cookie sheet. Decorate with non-pareils, if desired. Bake at 400ºF for 7-8 minutes.
Cool on wire racks. Frost the cookies if desired.
NOTE: For a sweeter touch, roll out with powdered sugar rather than flour.
Prep Time: 20 minutes
Cook Time: 10 minutes
Container: Cookie sheet
Servings: 48


Ingredients
-
1 cup butter
-
2 cups sugar
-
1 teaspoon baking soda
-
5 cups flour
-
4 eggs
-
2 teaspoons cream of tartar
-
1 teaspoon vanilla