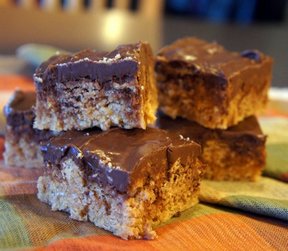 Directions
In a saucepan on the stovetop, cook the sugar and syrup. Bring the mixture to a boil; remove from the heat.
Add the peanut butter to the syrup mixture and stir well; then add this to the cereal and mix well.
Press into jelly roll pan.
Melt the chips and spread over the top.
Allow to cool before cutting.
Prep Time: 10 minutes
Cook Time: 10 minutes
Servings: 12


Ingredients
-
3 cups sugar
-
3 cups corn syrup
-
3 cups creamy peanut butter
-
21 ounces Special K cereal
-
12 ounces butterscotch chips
-
12 ounces chocolate chips