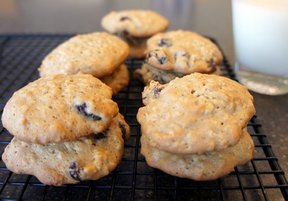 Directions
Bring the water to a boil; then add the raisins. Return to a boil; then reduce the heat to medium and simmer 15 minutes or until the raisins are plump and juicy.
Cream the sugar, shortening, vanilla, and eggs in a large bowl.
Measure the liquid from the raisins, and add water if necessary to equal 1/2 cup.
Add the raisins and liquid to the creamed ingredients and mix well.
In a separate bowl, mix the flour, baking soda, baking powder, salt, cinnamon, and ground cloves; then add this dry mixture to the creamed mixture.
Add the oatmeal and chopped nuts and mix well.
Drop by teaspoonfuls on an ungreased cookie sheet.
Bake at 350° F for 8-10 minutes or until light golden brown. Yield: 6 1/2 dozen cookies.
Cook Time: 10 minutes
Container: baking sheet
Servings: 78
Serving Size: 1 each


Ingredients
-
1 cup water
-
1 cup raisins
-
1 1/2 cups sugar
-
3/4 cup shortening
-
1 teaspoon vanilla
-
2 eggs
-
2 1/2 cups whole wheat flour
-
1 teaspoon baking soda
-
1/2 teaspoon baking powder
-
1 teaspoon salt
-
1 teaspoon cinnamon
-
1/2 teaspoon cloves (ground)
-
2 cups quick or regular oatmeal
-
1/2 cup nuts, chopped (optional)