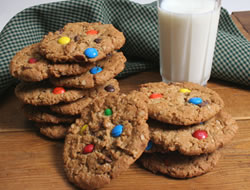 Directions
In a large mixing bowl, combine the first 5 ingredients. Mix well.
Add the remaining ingredients and mix well.
Form the dough into 1 1/2-inch balls (golfball size), and place 2 to 3 inches apart on a cookie sheet. Flatten with a fork or a glass.
Bake at 350° F for 10 minutes.
Cool on wire racks. Makes about 8 dozen.
Prep Time: 30 minutes
Cook Time: 10 minutes
Container: Cookie sheet(s)
Servings: 96
Serving Size: 1 each


Ingredients
-
6 eggs
-
2 1/2 cups brown sugar
-
2 cups white sugar
-
1 cup butter or margarine
-
3 cups peanut butter
-
1 1/2 teaspoons vanilla
-
1 1/2 teaspoons honey
-
4 teaspoons baking soda
-
1 cup flour
-
9 cups oatmeal
-
2 cups M&Ms
-
1 cup chocolate chips