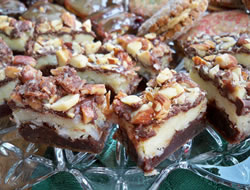 Directions
Make Brownie mix following directions on box. Pour in 9x13 baking pan; set aside.
Use an electric mixer and mix coconut, cream cheese, flour, sugar, eggs. Mix until blended.
Pour over brownies, spread evenly. Bake 30-35 minutes at 350.
Remove from oven and sprinkle chocolate chips on top evenly; return to oven for 1 minute to soften chips. Spread chocolate evenly.
Sprinkle with almonds. Cool and cut into bars.
Prep Time: 40 minutes
Cook Time: 35 minutes
Container: 9 x 13 baking pan
Servings: 24


Ingredients
-
1 box brownie mix (cake type)
-
2 cups coconut
-
8 ounces cream cheese, softened
-
2/3 cup sugar
-
2 tablespoons flour
-
2 eggs
-
1 cup milk chocolate chips
-
1 cup almonds, chopped