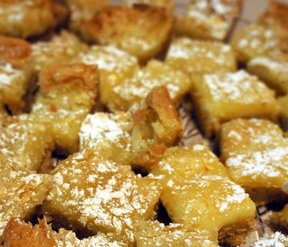 Directions
Preheat the oven to 350ºF.
Combine the 2 cups of flour, the butter, and the powdered sugar. Mix thoroughly.
Press the mixture into an ungreased 9x13-inch baking pan. Bake 20 minutes.
Meanwhile, mix the eggs, sugar, salt and lemon juice.
Fold in the 1/4 cup flour and the baking powder. Pour this mixture onto the hot crust.
Bake 25 minutes longer; then cool, sprinkle with powdered sugar, and cut into squares.
Prep Time: 20 minutes
Cook Time: 45 minutes
Container: 9x13-inch baking pan
Servings: 24
Serving Size: 1 each


Ingredients
-
2 cups flour
-
1 cup soft butter
-
1/2 cup powdered sugar
-
4 eggs
-
2 cups sugar
-
salt
-
5 tablespoons lemon juice (juice of 2 lemons)
-
1/4 cup flour
-
1 teaspoon baking powder