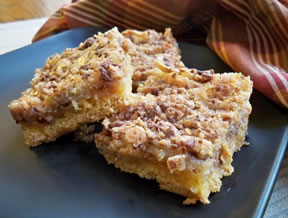 Directions
Blend the cake mix with the melted butter and 1 of the eggs.
Press into 9- x 13-inch cake pan.
In a separate bowl, stir the cream cheese until fluffy; then add the 2 remaining eggs and mix well.
Add the powdered sugar to the cream cheese mixture and beat until the lumps are gone.
Mix in half of the bag of heath candy pieces; then pour the mixture over the cake layer. Sprinkle the remaining heath candy pieces on top of the bars.
Bake at 350 degrees F. for 30-45 minutes or until the top is golden brown.
Cook Time: 45 minutes
Container: 9- x 13-inch cake pan


Ingredients
-
yellow cake mix
-
1 stick butter, melted
-
3 eggs
-
8 ounces cream cheese
-
3 3/4 cups powdered sugar
-
1 package Heath candy pieces, pre-chopped