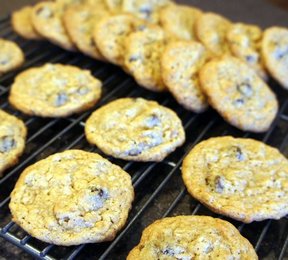 Directions
In a large bowl, cream the shortening and sugars until light and fluffy.
Add the egg, milk and vanilla and stir.
In a separate bowl, combine the flour, cracker crumbs, baking soda, salt and cinnamon. Add this dry mixture to the creamed mixture and stir well.
Stir in the chocolate chips.
Drop by tablespoonfuls about 2 inches apart onto an ungreased cookie sheet. Bake 8-10 minutes at 350ºF until set. Do not over-bake.
Prep Time: 15 minutes
Cook Time: 10 minutes
Container: baking sheet
Servings: 36


Ingredients
-
3/4 cup butter, softened
-
1/2 cup sugar
-
1/2 cup brown sugar, firmly packed
-
1 egg
-
2 tablespoons milk
-
1 teaspoon vanilla
-
1 1/4 cups flour
-
1 1/4 cups graham cracker crumbs
-
1/2 teaspoon soda
-
1/4 teaspoon salt
-
1/4 teaspoon cinnamon
-
12 ounces chocolate chips