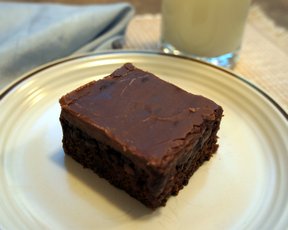 Directions
Bring cocoa, margarine, and water to a boil.
Mix the remaining brownie ingredients and add to the cocoa mixture.
Pour into jelly roll pan and bake at 400° F for 20 minutes.
For Frosting, bring the first three frosting ingredients to a boil; then allow to boil for 30 seconds. Remove from the heat, add the chocolate chips, and beat until smooth.
Allow the brownies to cool; then spread frosting on the cooled brownies.
Cook Time: 20 minutes
Container: Jelly roll pan


Ingredients
-
4 tablespoons cocoa
-
2 sticks margarine, softened
-
1 cup water
-
2 cups sugar
-
2 cups flour
-
1 teaspoon baking soda
-
1 teaspoon salt
-
1 teaspoon vanilla
-
1/2 cup buttermilk
-
2 eggs
-
1 cup chopped nuts (optional)
-
FROSTING:
-
6 tablespoons butter
-
1/3 cup milk
-
1 1/2 cups sugar
-
1/2 cup chocolate chips