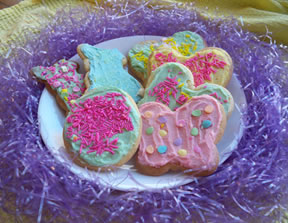 Directions
Mix first six ingredients together; beat until creamy.
Combine flour, soda and salt together in a separate bowl; whisk lightly to mix.
Add flour mixture into sugar mixture. Mix altogether.
Roll out and cut into shapes.
Bake at 375 degrees F. until light brown.
Note: To make it easier to remove the cutout shapes, roll the dough between parchment paper or wax paper, cut out the shapes, and then place the sheet of parchment or wax paper with the cutouts on in the refrigerator for about 10 minutes. When you take them out they should be easier to remove from the paper.

FROSTING:
Combine all the ingredients together and mix until creamy smooth. You may have to add more powdered sugar or milk to achieve the desired consistency.
Decorate cookies with the frosting and add sprinkles if desired.
Prep Time: 2 hours
Cook Time: 1 hour
Container: Cookie sheets


Ingredients
-
1 1/2 cups sugar
-
1 cup shortening
-
2 eggs
-
3 tablespoons cream
-
1 teaspoon vanilla
-
1/2 teaspoon lemon flavoring
-
3 cups flour
-
1/2 teaspoon soda
-
1/2 teaspoon salt
-
FROSTING:
-
3 1/2 cups powdered sugar
-
1/4 cup margarine, softened
-
4 tablespoons milk
-
1 teaspoon vanilla or almond extract