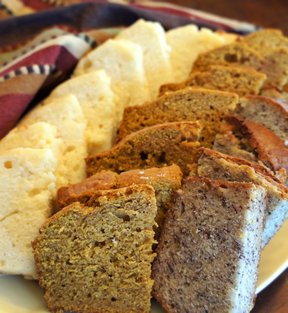 Directions
Preheat oven to 350 degrees. Grease and flour 3 8x5 loaf pans.
In a large bowl, combine pumpkin, eggs, oil, water and sugar. In a separate bowl, sift flour, soda, salt, cinnamon, nutmeg, cloves and ginger. Stir the dry ingredients into the pumpkin mixture until blended. Pour into prepared pans.
Bake for 45-50 minutes, until toothpick inserted in center comes out clean.
Prep Time: 10 minutes
Cook Time: 45 minutes
Servings: 24


Ingredients
-
15 ounces pumpkin
-
4 eggs
-
1 cup vegetable oil
-
2/3 cup water
-
3 cups sugar, granulated
-
3 1/2 cups flour
-
2 teaspoons baking soda
-
1 1/2 teaspoons salt
-
1 teaspoon cinnamon
-
1 teaspoon nutmeg
-
1/2 teaspoon ground cloves
-
1/4 teaspoon ground ginger