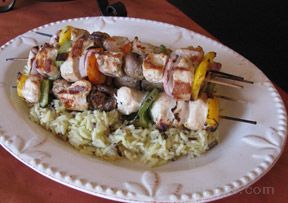 Directions
In a large ziploc bag, place chicken and 2 cups of the italian dressing. Refrigerate at least 4 hours.
In a separate ziploc bag, place vegetables and the remaining italian dressing. Refrigerate until ready to use.
Preheat grill to medium heat.
Begin to assemble kebab alternating meat, onion, pepper and mushrooms, leaving a small amount of space between each item.
When ready to grill, place the skewers on the grill grate, keeping each skewer 1 to 2 inches away from the next skewer. Allow the kebabs to cook for several minutes on each side, gently brushing lemon juice on the kebabs and turning them 2 to 3 times to cook all surfaces.
Prep Time: 20 minutes
Cook Time: 10 minutes
Servings: 6


Ingredients
-
bamboo skewers
-
chicken breasts - cut into 1-inch pieces
-
8 ounces mushrooms
-
1 red onions
-
1 green pepper
-
1 red pepper
-
2 packages Good Seasonings Italian Dressing mix - prepared according to package
-
1/4 cup lemon juice