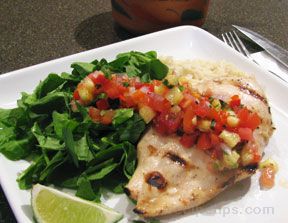 Directions
In a large resealable plastic bag, combine the first eight ingredients. Add chicken and seal bag; turn to coat. Refrigerate for at least 4 hours.
In a small bowl, combine remaining ingredients. Cover and refrigerate until serving.
Preheat grill to medium heat. Drain and discard marinade. Grill, covered, over medium heat for 5-6 minutes on each side or until chicken is no longer pink in the middle. Serve with salsa.
Prep Time: 15 minutes
Cook Time: 10 minutes
Servings: 6


Ingredients
-
1/4 cup lemon juice
-
2 tablespoons lime juice
-
2 tablespoons orange juice
-
1 tablespoon canola oil
-
1 teaspoon sugar
-
1/2 teaspoon oregano
-
1/2 teaspoon salt
-
1/4 teaspoon pepper
-
6 chicken breasts
-
2 tomatoes - seeded, chopped
-
1 cup pineapple - chopped
-
1/2 cup red pepper - chopped
-
1/4 cup red onion - chopped
-
1 jalapeño - seeded, finely chopped
-
1/4 cup cilantro - chopped
-
1/4 cup lime juice
-
salt and pepper - to taste