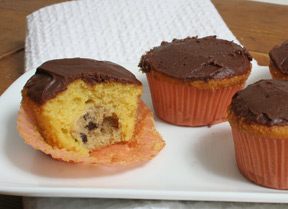 Directions
In a small bowl, combine flour, baking soda and salt.
Cream the butter, white sugar, and brown sugar with an electric mixer in a large bowl until smooth. Add egg and vanilla; beat until smooth. Add the flour mixture until combined. Stir in the chocolate chips. Form the dough into tablespoon-sized balls and place on a baking sheet. Freeze until solid, approximately 2 hours.
Preheat an oven to 350 degrees F. Line muffin tin with paper liners.
In a large bowl, combine cake mix, water, oil and eggs. Beat for 2 minutes on medium speed. Spoon into prepared cupcake liners, filling each 2/3 full. Place a frozen cookie dough ball on the top center of each cupcake.
Bake in the preheated oven about 16-18 minutes. Do not overbake; you want the dough ball to still be a little doughy. Cool in the pans for 10 minutes before removing to cool completely on a wire rack.
Prep Time: 15 minutes
Cook Time: 15 minutes
Servings: 30


Ingredients
-
1 1/2 cups flour
-
1/4 teaspoon baking soda
-
1/4 teaspoon salt
-
1/2 cup unsalted butter - softened
-
1/4 cup sugar
-
1/2 cup brown sugar
-
1 egg
-
2 teaspoons vanilla extract
-
1 cup chocolate chips
-
1 package yellow cake mix
-
1/3 cup canola oil
-
1 1/3 cups water
-
3 eggs