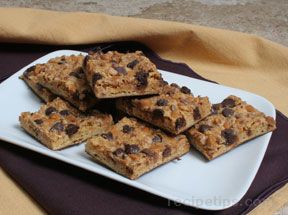 Directions
Combine the cake mix, sweetened condensed milk, and egg in a mixing bowl and beat until well mixed.
Pour this mixture into a well greased 10 x 15 bar pan and spread out evenly.
Sprinkle the chocolate chips, butterscotch chips, and toffee pieces evenly over the batter.
Bake at 350° F. for 18 to 20 minutes.
Remove from the oven and allow the bars to cool before cutting.
Prep Time: 45 minutes
Cook Time: 20 minutes
Container: 10 x 15 bar pan
Servings: 32
Serving Size: 1


Ingredients
-
1 yellow cake mix
-
1 can sweetened condensed milk
-
1 egg
-
1 cup chocolate chips
-
1 cup butterscotch chips
-
1 cup toffee pieces